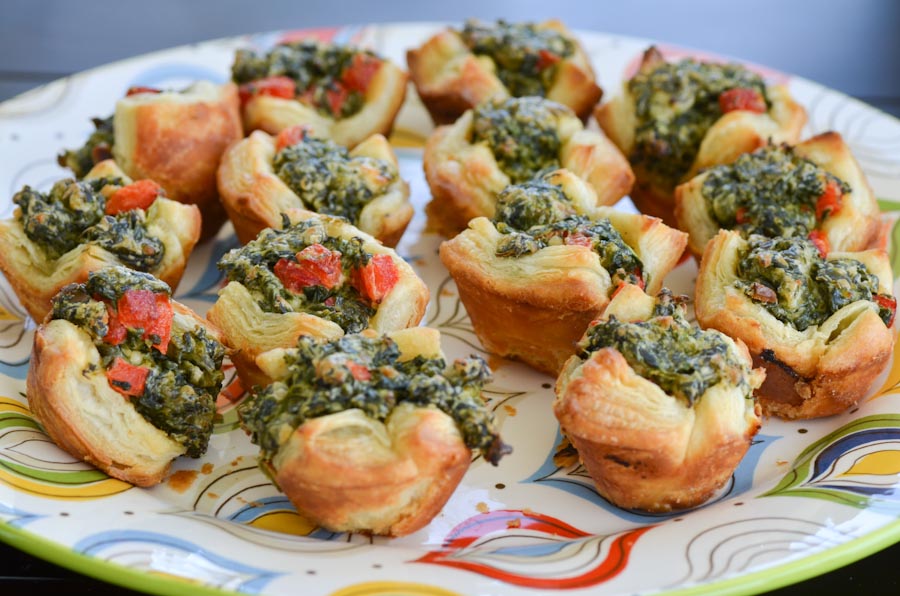 If you have ever been to a party at my house or if I have ever catered for you, chances are you have tried these little puff pastry treats. I always make these for a party. They taste great, they make the house smell amazing, and there are never any left over which I take as a good sign. But the real reason why I always make savory, spinach puff pastry shells is because I can make them and freeze them weeks in advance.
Yep, I just totally blew my cover, but that's ok, we're friends. Right?  I'm sure Super Woman has a few tricks up her sleeve. Not that I think I'm Super Woman. Well make these for yourself and see if you feel at all like a culinary super hero.
If you are planning a big party and attempting to do most the cooking on your own it is essential that you find a balance of low maintenance foods and foods that require attention and detail. If you don't find that balance in your menu planning it is very likely you will go down in flames in the kitchen with frizzy hair and a frazzled expression on your face in front of all your family, friends, guests and/or employers. Overly dramatic? A little. Serious? Very!
These Greek inspired puff pastry shells are a low maintenance menu item, hooray! All you have to do during your party is pop them in the oven and set a timer. All the high maintenance work is done in advance on your own time. So a few weeks before your party if you have a day where you're just cruising at home, make a batch of these and keep them in the freezer. You will not be disappointed. They taste so much better than the pre-made frozen ones you buy at the store, it's not even comparable!
You will need a mini muffin pan. This recipe makes 48.
Get creative with these. Everything tastes good in puff pastry so go wild and use what you have on hand. I've made fillings of brie, cranberries and pistachio, also roasted artichoke hearts and olives, how about mini apple pies? Yum.
Ingredients
2 Puff Pastry Sheets Defrosted
8 oz cream cheese (room temp)
1/2 Cup Crumbled Feta
2-4T Milk
1 head Garlic
1 bag frozen chopped spinach (defrosted with all the water squeezed out)
1 red bell pepper
1/4 cup toasted pine nuts
1 t finely chopped fresh oregano
1 T finely chopped fresh parsley
flour for dusting
Directions
Preheat your oven to 450.
First thing to do is get roasting. Chop the top off your head of garlic. Put it on a piece of foil and drizzle with olive oil and salt. Wrap it up in the foil and put it in the oven next to your red bell pepper on a sheet pan. Leave the garlic in for about 25 minutes or until your house smells like roasted garlic and you remember to take it out.  (No harm no foul) Unwrap it and let it cool. The cloves should be soft and squeezable.
Flip your bell pepper over every so often until the skin is evenly blackened and roasted on all sides. About 45mins to 1 hour. Once you have accomplished this put your pepper in a ziplock, close it up, and let it steam.  Once it has cooled down you can peel off the skin and scrape out the seeds. Try not to rinse it under water cause that will wash away all the flavor you just worked so hard to achieve.
While all that roasting and steaming is going on, get out your mixer and add your cream cheese, feta, milk, parsley, and oregano. Squeeze out all the cloves of roasted garlic into the mixer. Turn it on with your paddle attachment until you have a nice thick and creamy mixture. You can add more milk if you need to thin it out a bit. You can also do this by hand if you don't have a mixer.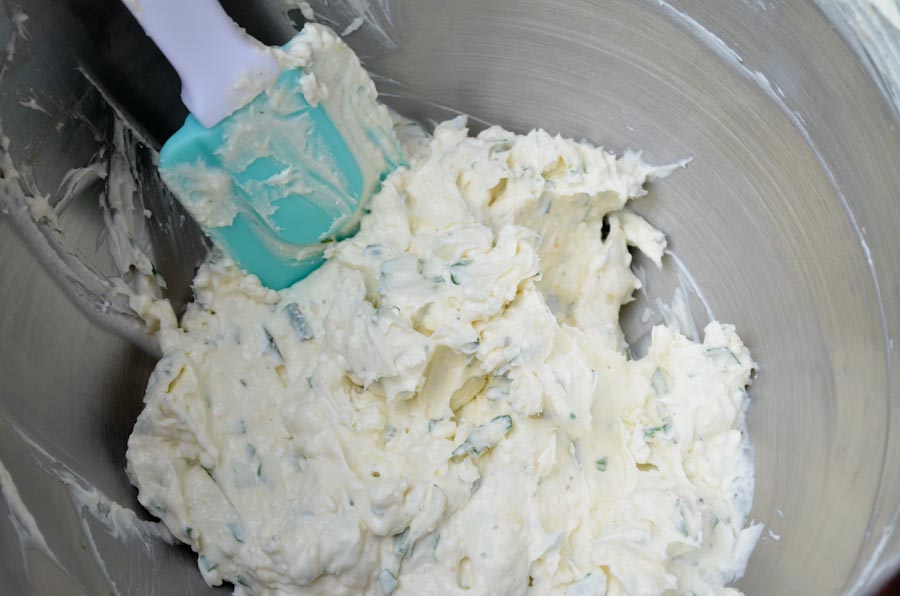 Next get your spinach ready. Put it in a pot with a few tablespoons of water and cook until it is not frozen. Drain, and I mean drain! I like to squeeze out all the excess water through a clean dish towel. Add the spinach to the mixer. Dice up your roasted, peeled and deseeded red pepper and add it to the mixture.
Lightly toast your nuts and add it to the mixture. It should look something like this.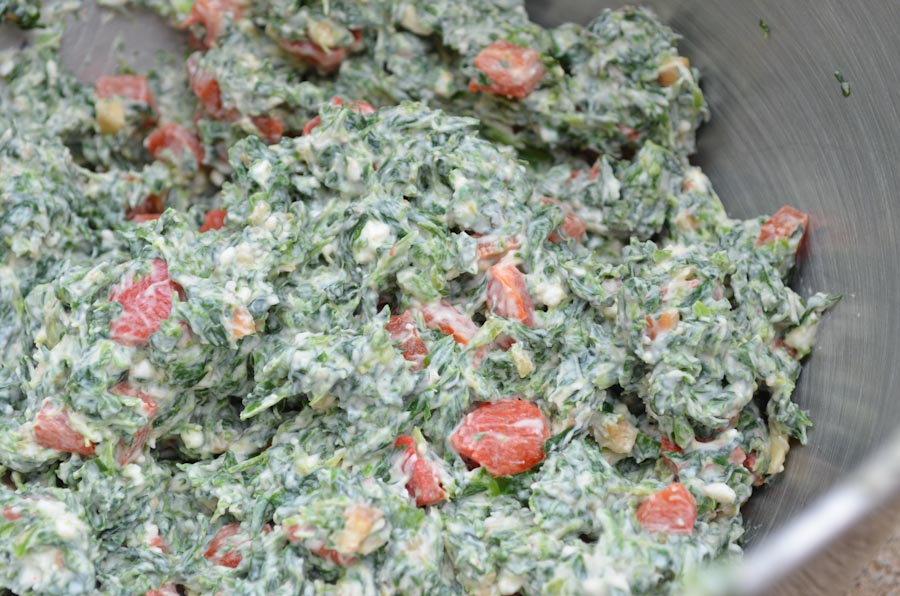 Now that your filling is ready lets get to work on the puff pastry. Lightly dust your clean work surface with flour and unfold one puff pastry sheet on it. You can even it out with a rolling pin if you like just be careful not to overwork the dough.  You are going to cut the dough into 24 pieces. This requires a little thinking. 3 cuts one way and 5 cuts the other way, right?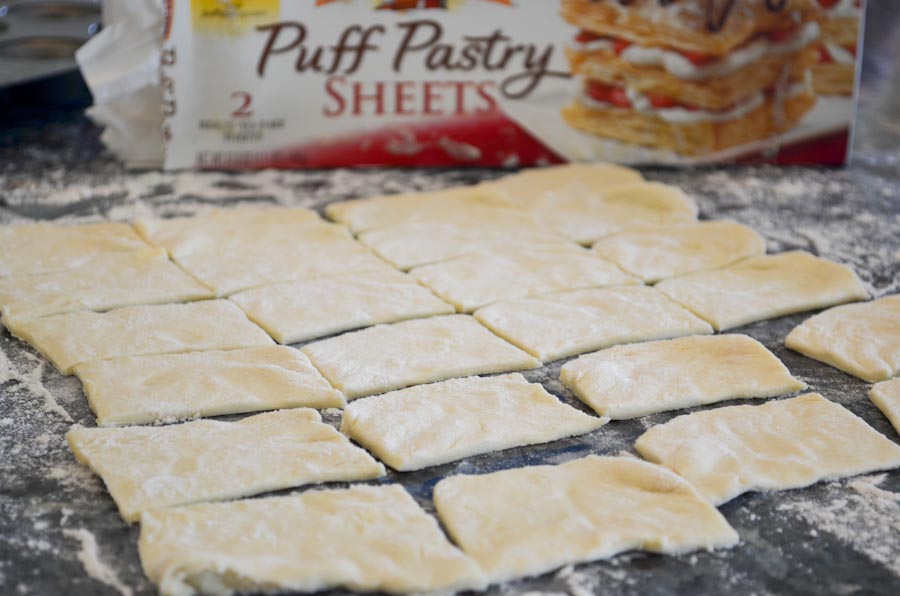 Get your mini muffin pan, and spray it with Pam. As a rule, when in doubt, spray Pam! Fit your puff pastry pieces into the muffin pan and add about a tablespoon of spinach mixture into each.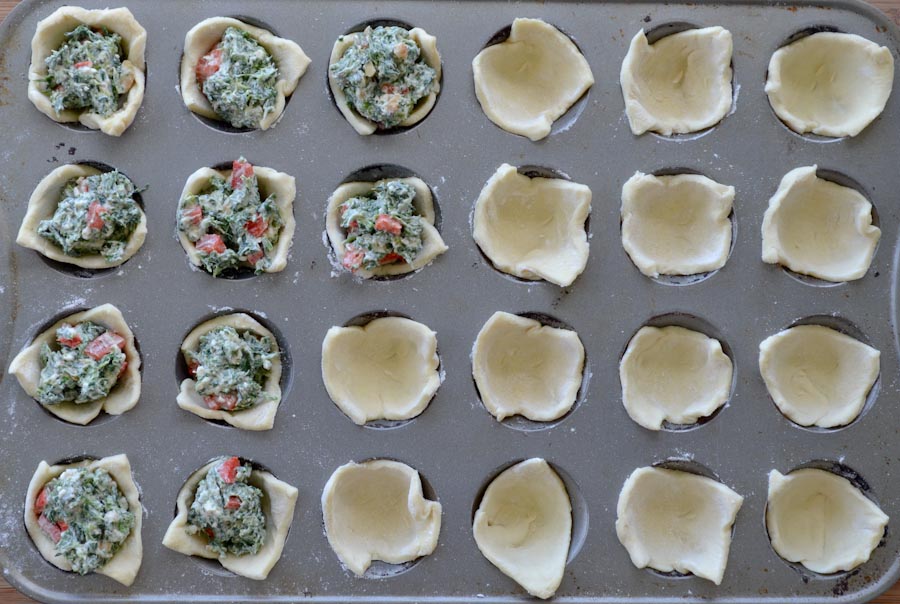 After they are all filled up, cover the pan with syran wrap and put it in the freezer. You should have about half the spinach mixture left, put it in the fridge. Eat some lunch, take your kids to ballet, do some laundry, maybe some crunches. Whatever.
Once they have frozen into their new and improved muffin tin shapes, pop them out using a butter knife and put them into a ziplock freezer bag. Store them in the freezer for up to one month. Repeat with the other puff pastry sheet and remaining mixture.
During your party, calmly preheat your oven to 425. Put your pan in the oven and set the timer for 25 minutes.  Let them cool a bit before popping them out with a butter knife and serving. They will go fast but you will be ready with another bag in your freezer.
Hope you have a great party!
Love,