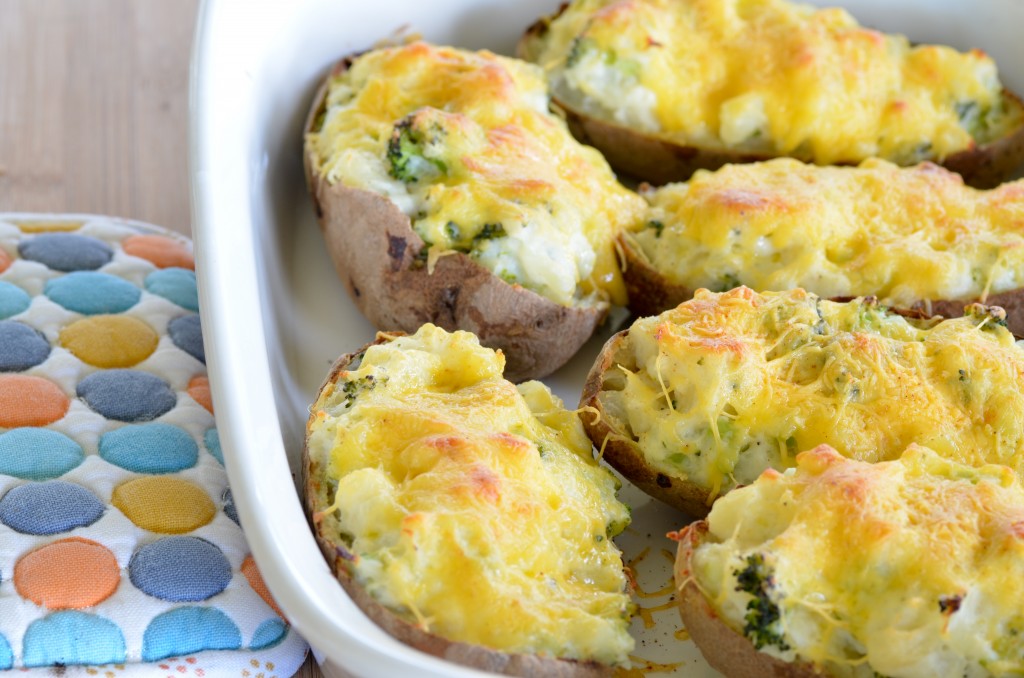 I don't know about where you live, but it summer in Oahu. Kids are getting out of school, everyday is gorgeous, and I am so ready to get my summer on! Lazy mornings, late nights, sunsets, sandy feet and of course, barbecues!
The beginning of summer will forever remind me of college in Oregon. After a long, wet and very cold winter the sun would finally come out and everyone would be outside listening to music, starting up barbecues, tapping kegs, and wearing tank tops and sunglasses. This was always slightly amusing for a girl who grew up in year round summer weather, but it was impossible not to get swept up in the "summer's here" excitement.
The first time I made twice baked potatoes was in college. It also happens to be the same night I kissed my future husband for the first time. It was 1am in the kitchen of my tiny apartment, The Clash was playing on my CD player, and I was waiting to pull a batch of twice baked potatoes out of the oven. I guess when you are 20 years old, cooking at 1am for all your starving college friends is a relatively normal thing to do. It does amaze me that I had all the ingredients though…
We would have kissed anyway, but without those potatoes would that kiss have gone straight to his heart convincing him that I was his soul mate and the girl he would choose to spend the rest of his life with?
Probably.
But they were damn good potatoes.
I always make this dish on Father's Day and on my husband's birthday. They are his favorite and of course they hold a lot of sentimental value.
I gotta believe there is truth in the statement "the way to a man's heart is through his stomach." I'm sure on that night of our first kiss I packed those potatoes full of sour cream, butter, and fake bacon bits. These days to keep that heart healthy we go with non-fat Greek yogurt and broccoli. Still delicious! We also now eat at a reasonable dinner hour. (Most of the time)
I'm pretty sure that if you bring a tray full of these to a barbecue you will be a hero. Actually I know this to be true.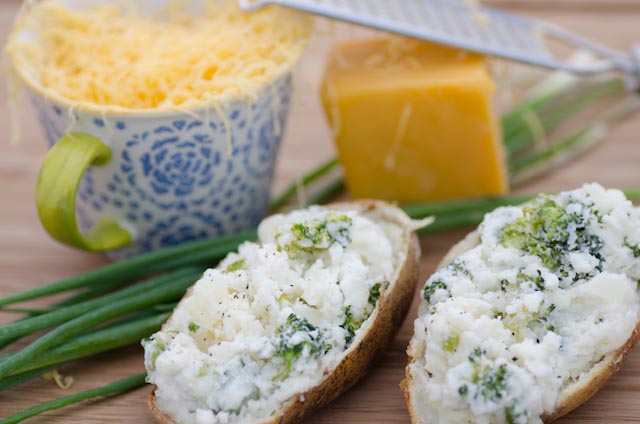 Twice Baked Broccoli Potatoes
3 Large Baking Potatoes
1 1/4 Cups Non-Fat Greek Yogurt
1/3 Cup Milk
1 1/2 Cups Broccoli
1 t salt
cracked black pepper
1/2 Cup Finely Shredded Cheddar Cheese
Green Onions for garnish
Dash of Lawry's
Preheat oven to 400. Wash and stab your potatoes all over. Throw them into the oven until they are fork tender, about an hour. Take them out and let them cool down. (Trust me on this one, ouch)
Slice the potatoes in half  long ways.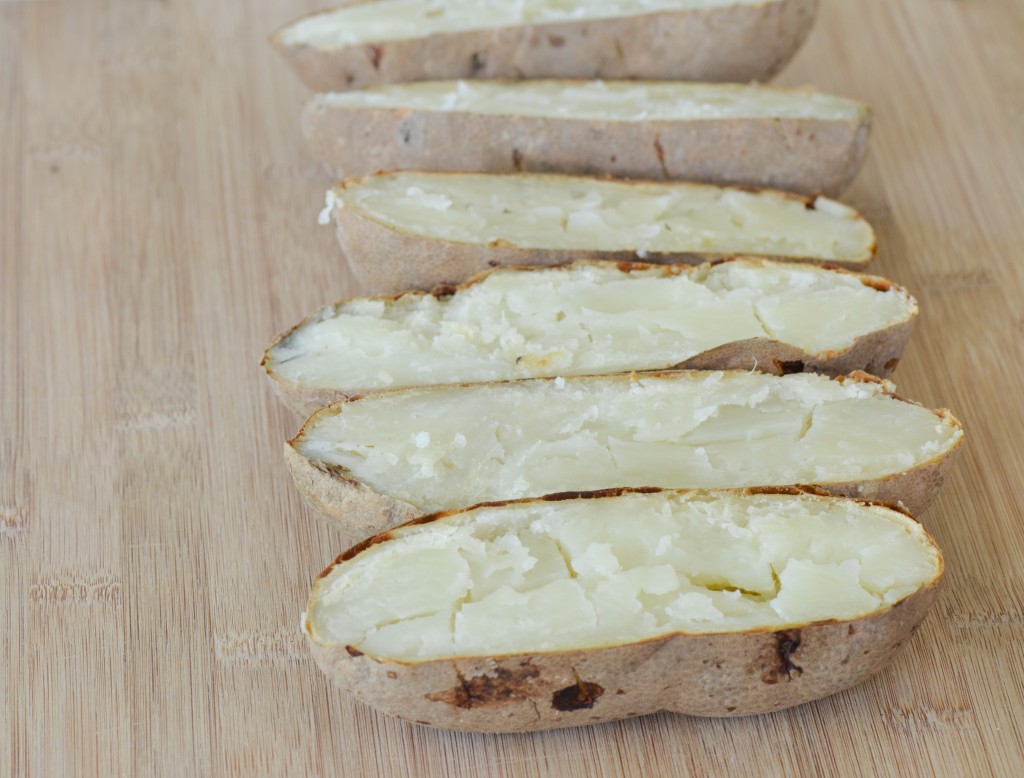 Scoop out the insides of the potatoes into a large mixing bowl doing your best to keep the skin intact.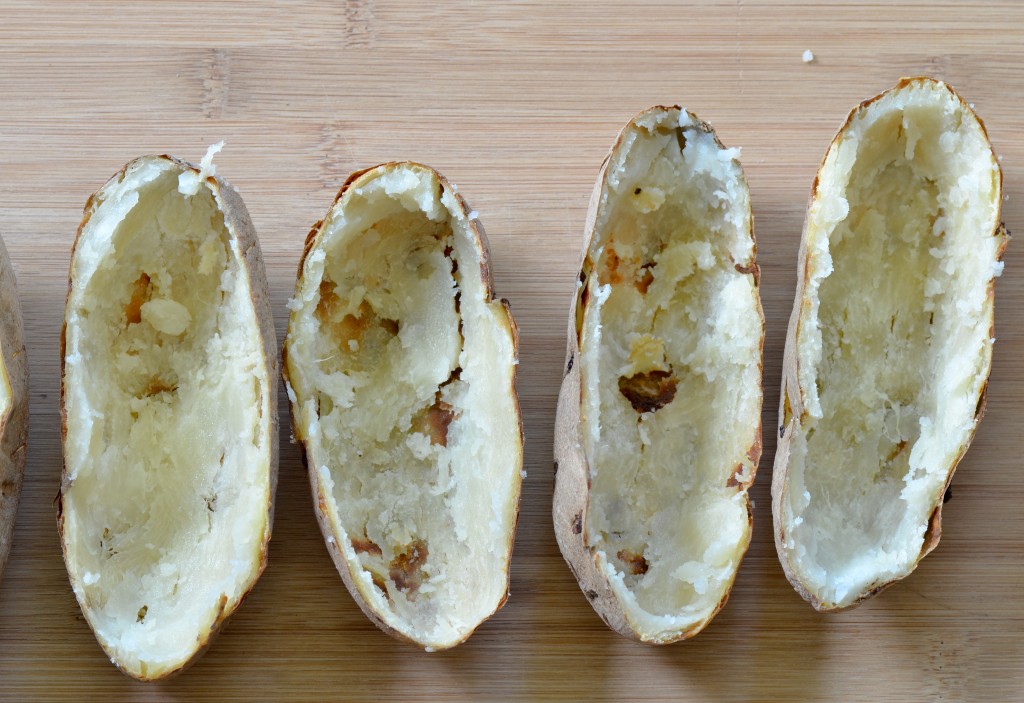 Add your greek yogurt, milk, salt and pepper. Essentially what you are doing is making mashed potatoes. So mash it up and make sure it tastes good.
Get a pot of water boiling and an ice bath ready. Drop your broccoli into the boiling water and blanch for 45 seconds. Then drain and transfer the broccoli straight into the ice water to stop the cooking process. Chop up the broccoli into little, tiny florets. Add to your mashed potatoes.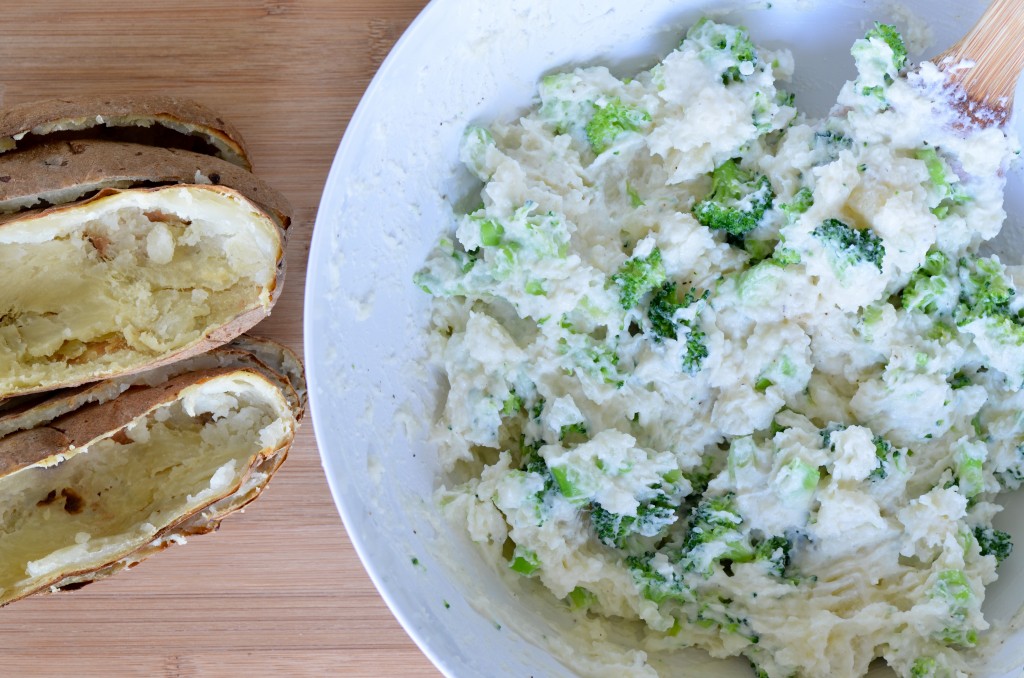 Then stuff the new and improved potato filling back into the skins and top each with cheddar cheese. I like to add a dash of lawry's seasoned salt to the top of each potato just to give it that Grandma homemade taste.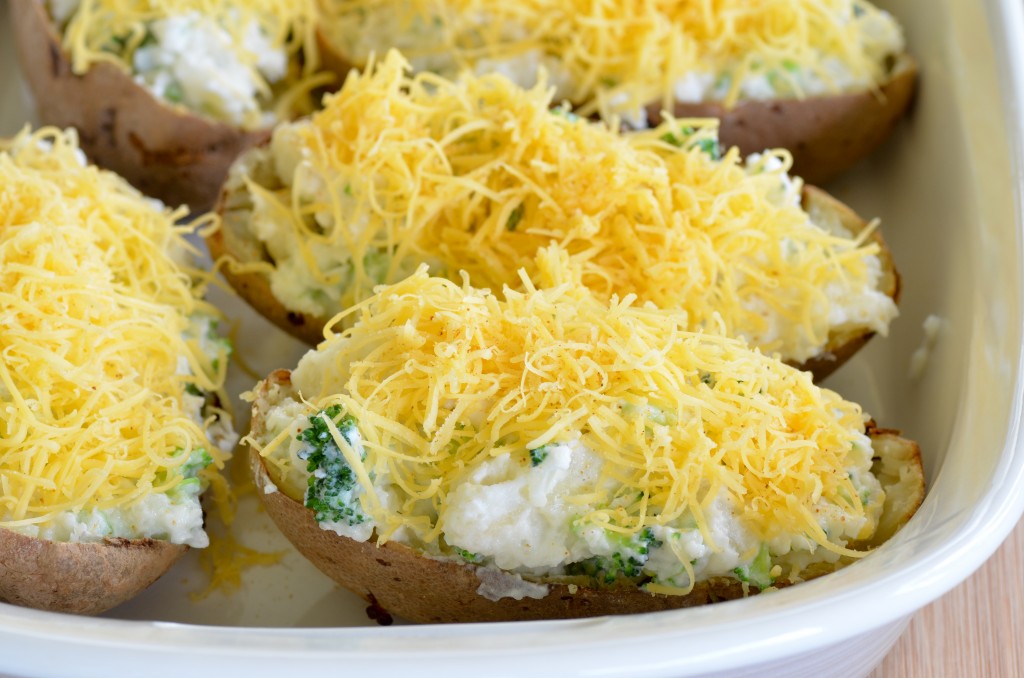 At this point you can either wrap up your potatoes and put them in the fridge until go time, or you can turn on the oven to 375 and get to the twice baking part. Leave them in the oven until they are hot and the cheese is bubbly and starting to brown. About 30 minutes. If you made the potatoes the day before and they are very cold, you might need more oven time.
Garnish with green onions.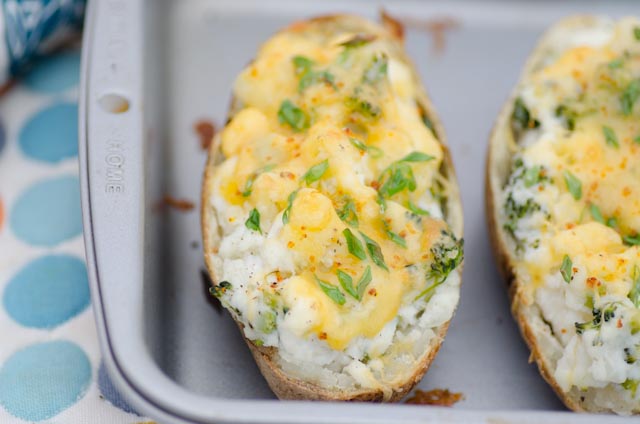 Serve with a kiss,