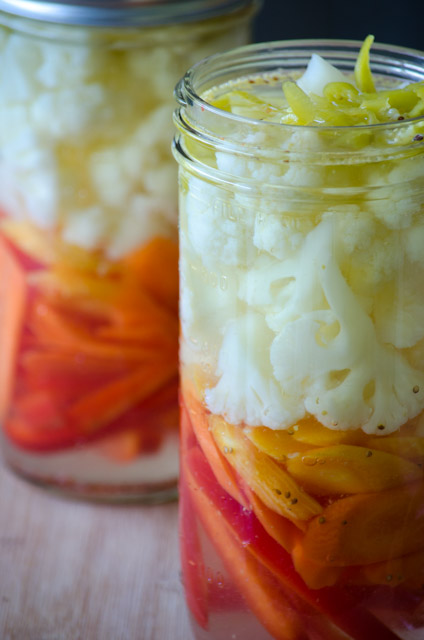 My family has an unhealthy obsession with olives, pickles and yes, spicy giardiniera! In fact, I started getting a little concerned by how many store bought jars of this stuff we were going through. I figure, if I make my own pickled vegetable, at least I will know what exactly is in there and what kind of vegetable are being used.
Guess what? There's no way I can go back to the store bought variety, this is so much better. No surprise there. But really, can something pickled taste fresh? Cause it does.
It's simple, all you need is a large tupperware or 2 large mason jars if you want to make it look pretty, and a little bit of patience. The patience is the hardest part, I had to talk my husband out of going to the store to buy a jar of this stuff while he was waiting! I told you, unhealthy obsession. There's worse vices out there though, and we take consolation in that.
What should you do with your jars of giardiniera? Assuming you don't eat it all with your fingers straight from the jar, you could chop it up on a salad. You could put it on top of a sandwich or maybe on a meatball sub. Yum! You could casually pull a jar out of your fridge when you have guests over and serve it as a little snack. No big deal, this is totally homemade and organic.
Whatever you do, use fresh vegetables, local and organic if possible. And put the vegetables you like in there! I might make my next batch just straight cauliflower for my daughter. You also can control the spice level. I kept it real mild, but next time- it's on!
Ingredients
cauliflower, half a head chopped into nice size florets
4 carrots, peeled and sliced
1 red bell pepper
1/2 jar drained sliced peperoncinis
2 1/2 cups white vinegar
3 cups water
3/4 cups sugar
5 TB kosher salt
1 t whole grain mustard
1/4 t red pepper flakes (or more, or maybe a sliced jalapeño pepper, or maybe sirracha!)
Directions
Bring a pot of water to a boil. Get an ice bath ready. You are going to quickly blanch the cauliflower for 2 minutes in boiling water (no more than this), drain, then stop the cooking process by tossing the cauliflower into ice water. Some people blanch the carrots as well but I do not like cooked carrots, I do not like them Sam I Am.
Bring the vinegar, water, sugar, salt, mustard and pepper flakes to a gentle boil and stir until the sugar and salt is dissolved. Let it cool.
Arrange your vegetable in your mason jars or toss them in a plastic bucket with a lid. Whatever. I personally am an arranger. Oh yeah, maybe I should mention in case you were wondering, we're not canning anything here. I'm just putting them in mason jars for fun, and because I don't know how to can things. I am going to keep mine in the fridge and we are going to eat them within a week. Ok, probably in 2 days.
Once the liquid is cooled down, pour it over the vegetables, put on the lid and into the fridge they go all pretty and dolled up. Now this is the hard part. You have to give it at least 8 hours for the flavor to really develop and marinate the vegetables. So no touching until tomorrow!
Aloha,