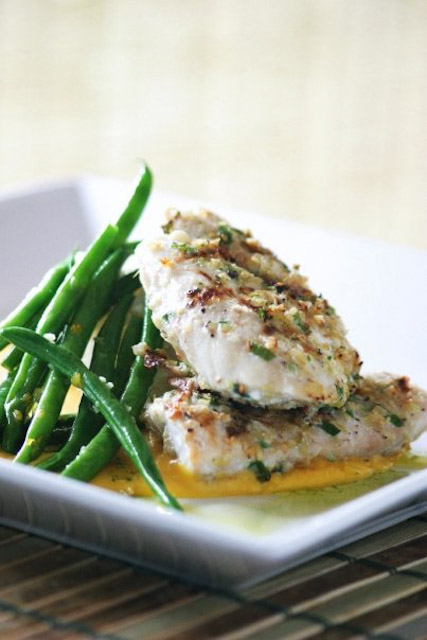 Let's face it. Anything can happen to anyone at anytime, so it's best to be prepared.
What if one day your husband called and said, "By the way, (favorite rock star) is coming over for dinner tomorrow night."  Don't laugh, it could totally happen!
We're talking Billie Joe from Green Day, Perry Farrell from Jane's Addiction, Eddie Vedder, Joan Jet, you get the picture.  A rock god whose poster used to hang on your bedroom wall is coming to your house for dinner!
What in the world are you going to cook?  I mean these are rock stars and rock stars are foodies. How do I know this? Well…. rock stars are cool. And cool people are foodies. So therefore by the transitive property of equality it is safe to assume that rock stars are foodies. They have also eaten at the finest restaurants the world has to offer, and of these restaurants I'm sure the chef send out all kinds of special, top notch creations! The creme de la creme, if you will.
How can you compete with this?  You can't, so don't even try. There, breath a sigh of relief and take off some of the pressure.
Rule number one of when a rock star comes to dinner: Keep it simple. Attempting to replicate a dish from Noma, or Alinea, or anything that involves molecular gastronomy will not end well and may even be downright dangerous.
You can't compete with the best restaurants in the world but you can prepare a homemade meal cook with aloha. And think about it, don't you get tired of eating out all the time when you travel? Of all the butter and salt in restaurant food? Never underestimate the power of a fresh, healthy, home cooked meal.
So don't panic. I've thought this through and I have a plan for you. You don't need to be wasting time looking through recipes. If you are anything like me you will need all the time you can get to attend to some neglected areas of personal hygiene. (Like shaving your legs and plucking your eyebrows…) Plus, this rock star most likely has a "married to rock" amazing wife, and you need to do your best to not look like a total slob standing next to her.
So find something to wear and go get a mani/pedi. You are going to be a rock star in the kitchen with this dish.
Here's what we're cooking…
Lemongrass Mahimahi with a Butternut Squash Coconut Sauce.
Ingredients
serves 6
1.5 pounds fresh mild white fish, like mahimahi, mongchong, or halibut cut into 6 4oz pieces
2 TB lemongrass
2 cloves garlic
1 TB ginger
1 TB lemon zest
1 TB green onion, thinly sliced
1 butternut squash
1 can coconut milk
1/2 cup chicken broth or vegetable broth
1 t kosher salt
2 t yellow or red Thai curry paste
Jasmine Rice
Green Beans
Directions
Preheat your oven to 350. Cut the butternut squash lengthwise and scoop out the seeds.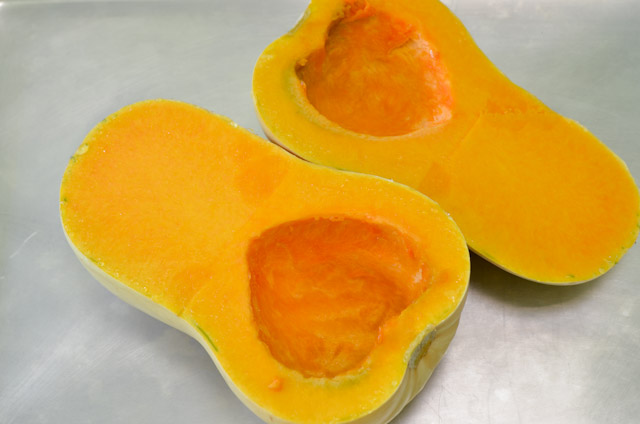 Brush the cut side with olive oil and sprinkle with salt. Place the squash cut side down on a baking sheet and into the oven it goes. Roast until fork tender, about 45-50 minutes. Let cool.
While the squash is roasting you can start mincing all your aromatics. This is something you have to do by hand. (Sorry) I once tried to put lemongrass in the food processor and it turned into a big stringy mess.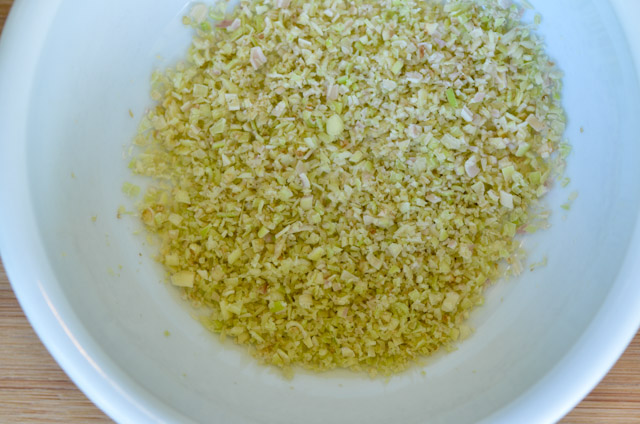 So mince up the lemongrass, garlic, ginger, and lemon zest all together nice and fine. Then thinly slice the green onions and stir them in. This should smell fantastic.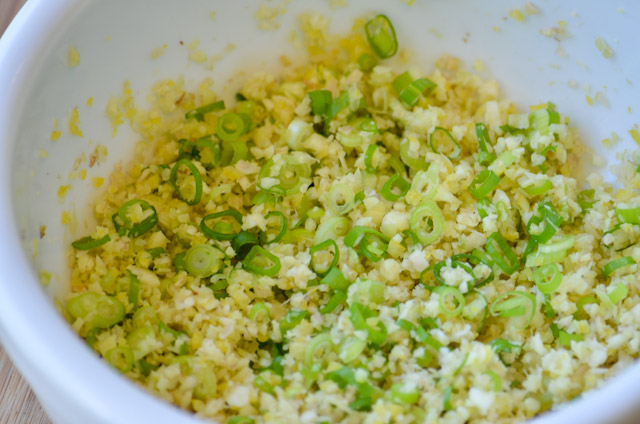 Brush the fish with olive oil and season with salt and pepper. Then you want to cake on this lemongrass crust and press it into the fish on both sides.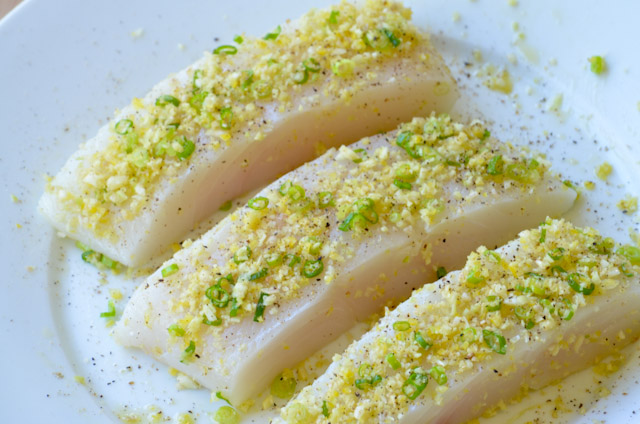 Set aside until you are ready to grill.
Scoop out the flesh of the roasted and cooled down squash into a blender or food processor. Add a can of coconut milk and puree until smooth.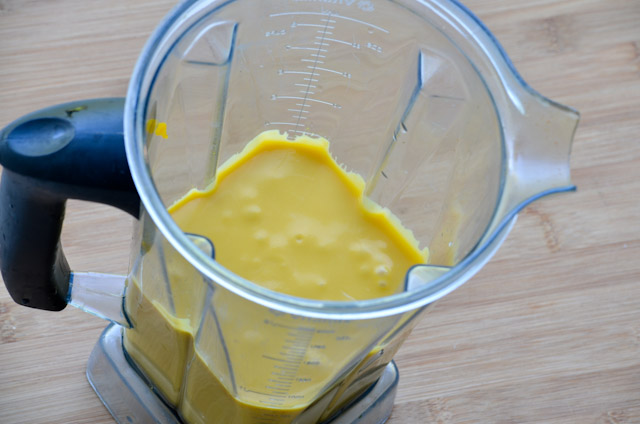 At this point the sauce will be way too rich, if you give it a taste you'll see that it's quite a mouthful. Pour this mixture into a saucepan and bring to a gentle simmer. Add the chicken broth, salt and curry paste. The chicken broth thins it out so add a little at a time until you feel the consistency is right.
My favorite curry paste is the Mae Ploy Yellow Curry Paste, but you can also use Thai Kitchen Red Curry Paste which is easier to find.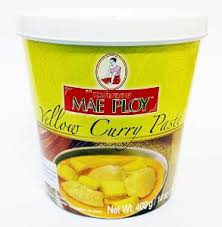 Be warned, the Mae Ploy Green Curry paste is so spicy it is almost inedible! Yikes, that could ruin an evening.
You are going to need something green to go with your dinner. I personally love green beans with this dish but I think bok choy or asparagus would be nice too.
I also think rice goes nicely with the fish and sauce. Would I make plain Jasmine rice if a rock star was really coming for dinner? Hell no! I'd jazz it up with some chicken stock and bamboo shoots. Recipe coming soon! (And when I say soon I mean 3 months from now given my blogging track record.)
Heat up your barbecue. When I am cooking fish on the barbecue I like to spray the grill with a non stick spray. Careful not to singe off those brows you just plucked! Grill your fish until it is just cooked through.
Here's how you plate it. Ladle about 1/4 cup sauce onto a plate.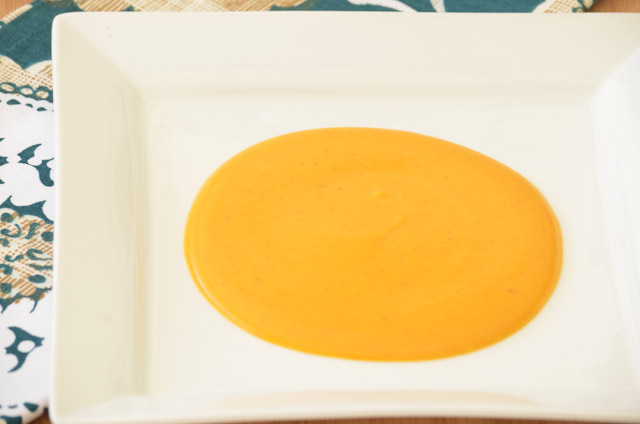 Add the rice. Don't just slop it down on a plate. Presentation is everything! This is something both rock stars and chefs have in common.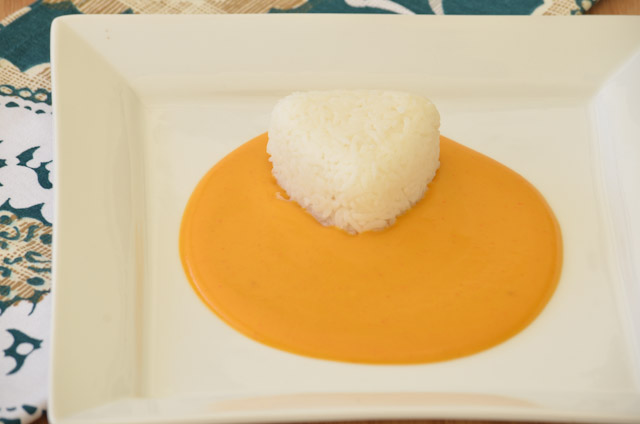 Add your perfectly cooked green beans, tepee style.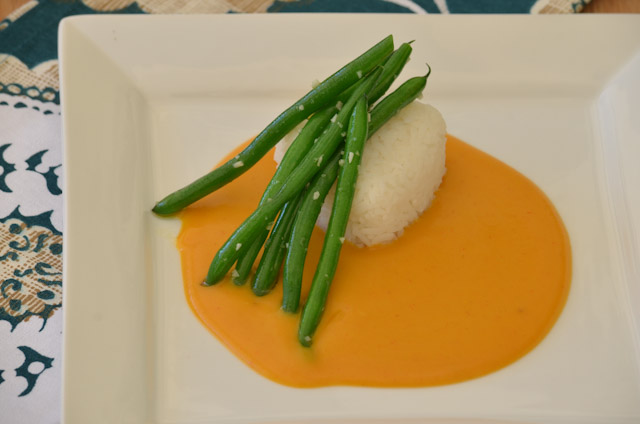 Next comes the grilled lemongrass fish. Garnish with green onions.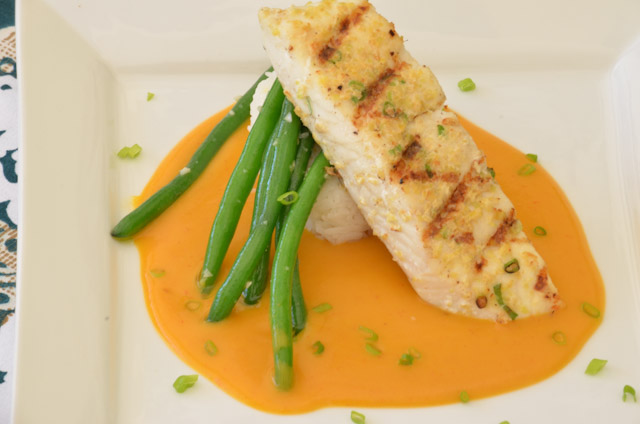 If you feel like this dish needs one more element of rock, you can make an herb chili oil. Add olive oil, green onions, cilantro, jalapeño, and salt into a vitamix and puree the heck out of it until smooth. You can keep this vibrant green oil in a squeeze bottle and drizzle dots over the squash coconut sauce.
Oh this old recipe? This is how we always eat.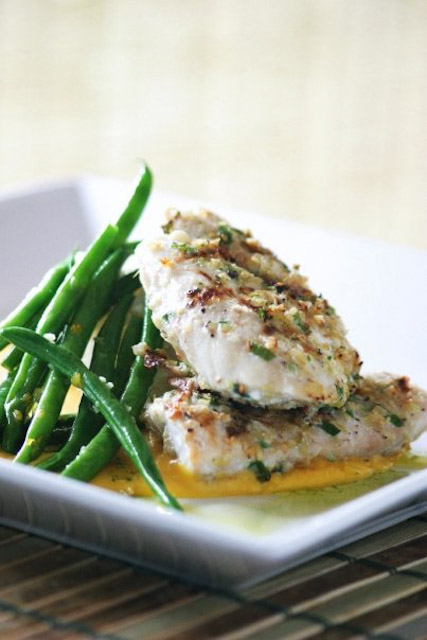 Rule number 2 of when a rock star comes to dinner: never try to out rock a rock star. These are highly trained professional, you don't want to hurt yourself trying to keep up.
Love,