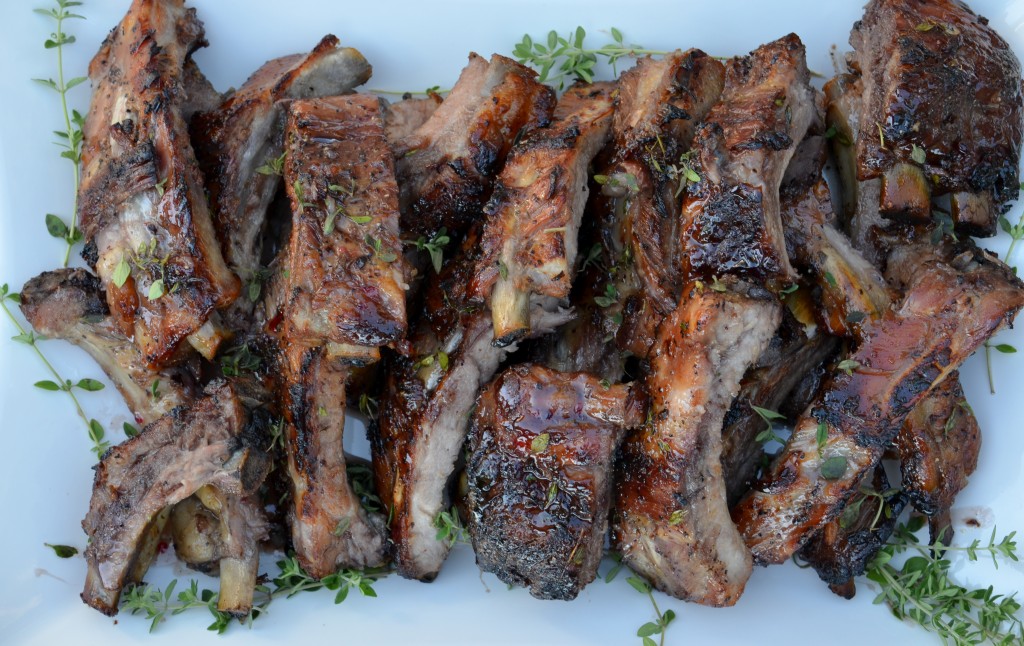 Ahem. Where were we?
Ah yes, I believe I promised you a rib recipe at the beginning of summer, and I have yet to deliver.  Believe it or not, I am actually quite good at keeping promises. Delivering them in a prompt and timely fashion? Meh… I have room for improvement.
But enough about me, Labor Day is right around the corner! Let's talk about ribs!
Have you ever noticed how competitive people are about their rib recipes? And rightfully so, anyone can grill a steak, but ribs, they take time and skill. Whether you know it or not, every time you cook ribs for a party, you are entering yourself in an unofficial cooking contest. No pressure but baby back ribs are prime Bobby Flay throwdown material. I can't think of a contest I'd be more proud to win.
When ribs are cooked just right the meat should fall off the bone, but still have integrity. They should be crisp and caramelized on the outside and juicy and tender on the inside. Your fingers should be left coated with a sweet and sticky sauce and, of course, you should feel an uncontrollable desire to go back for seconds.
If you are going to go through the trouble of making ribs, then they should be downright irresistible! Right? Right.
Now, I don't like to dwell on the negative side, but there are a few things that ribs should not be and I think it is important for us to go over it before we proceed.
Number 1. Ribs should not be tough. If you didn't get your act together and you don't have enough time to cook your ribs till they are tender, well then, maybe you should order a pizza and try again next time. I get carried away having too much fun all the time, I understand, plans change. I'm not judging you, I just don't want to gnaw on a bone like an animal. Know what I mean? So plan ahead and give yourself enough time to make your ribs irresistible.
Number 2. Ribs should not be dry. It is possible for ribs to be falling off the bone and yet, still be dry. I'm not totally sure, but I think Costco is to blame for this. It's not their product that is at fault. I buy my baby back ribs from Costco, they are nice and meaty and the membrane is usually removed.  It's the directions on how to cook ribs that is the problem. Cooking ribs uncovered in the oven or directly on the grill can really dry things out.
Ok, now that we are on the same page. There are various ways to cook ribs. I like my method because it is for the most part foolproof, clean and easy. Not to brag, but this method won me first place in the unofficial 4th of July rib cook off. Sorry boys, better luck next year!
The success of these ribs lies in a three part process. An overnight marinade. A lengthy roast in the oven, covered, on a rack over steaming water. A final grill to caramelize the sweet and tangy glaze.
Let's get started. You will need.
The overnight marinade. 
4 cloves garlic
1 t fresh thyme
1 TB huckleberry jam
1 TB white balsamic vinegar
1 TB kosher salt
1 t pepper
2 racks baby back ribs, patted dry
The Glaze
1/2 Cup white balsamic vinegar
1/4 Cup huckleberry jam
1 can of chicken broth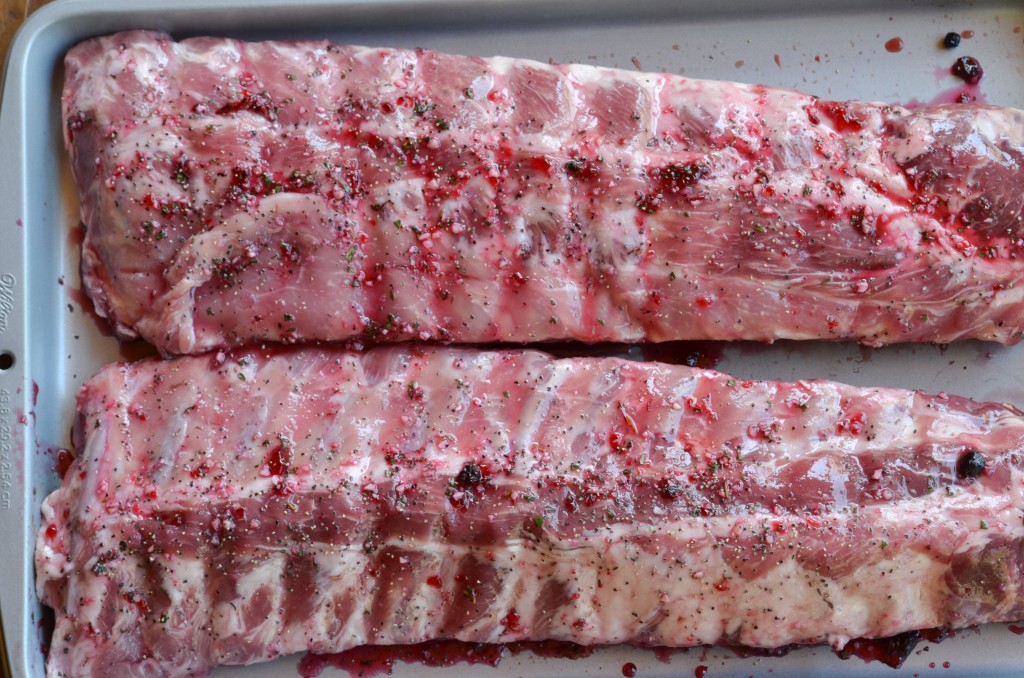 Mash all the marinade ingredients together and give your ribs a rub down.  Put the ribs on a rack on a sheet pan and let them sit uncovered in the fridge overnight to really ensure the flavors come through.
A quick note about the jam. I was in Idaho when I made these so naturally I used huckleberry. Had I been in Hawaii I most likely would have used Guava Jelly. Go ahead and represent your region!
The Roast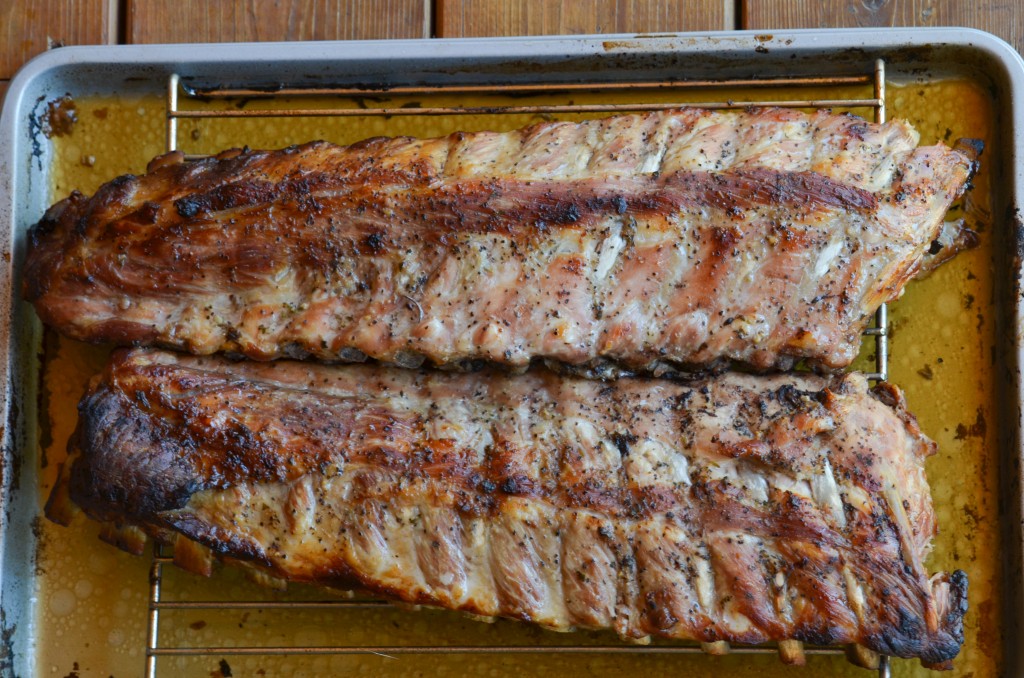 Preheat your oven to 425. Make sure your ribs are on a rack of some sort over a sheet pan. Pour 1 cup of water into the bottom pan and cover tightly with foil. This is how we ensure our ribs are not dry. The steam from the water below keeps the inside nice and moist.
Let them roast for about 1 3/4-2 hours, until they are nice and tender. About halfway through the roast, rotate the pan and also check to make sure all the water has not evaporated. Beware, this could totally happen! Especially if the pan you are using is thin. If this happens you will have burnt, smokey ribs, you will have to throw away your sheet pan, and you won't win the rib cook off. So sad.
The Grand Finale 
Set your ribs aside and let them cool. If you cover them with foil, you might be able to keep people from stealing little tasters. No guarantees. Let's get started on the glaze. By the way, if reducing stocks and making glazes isn't for you, no big deal. Just follow this method for cooking ribs and use your favorite bottle of store bought BBQ sauce instead. Your final product will still be fabulous!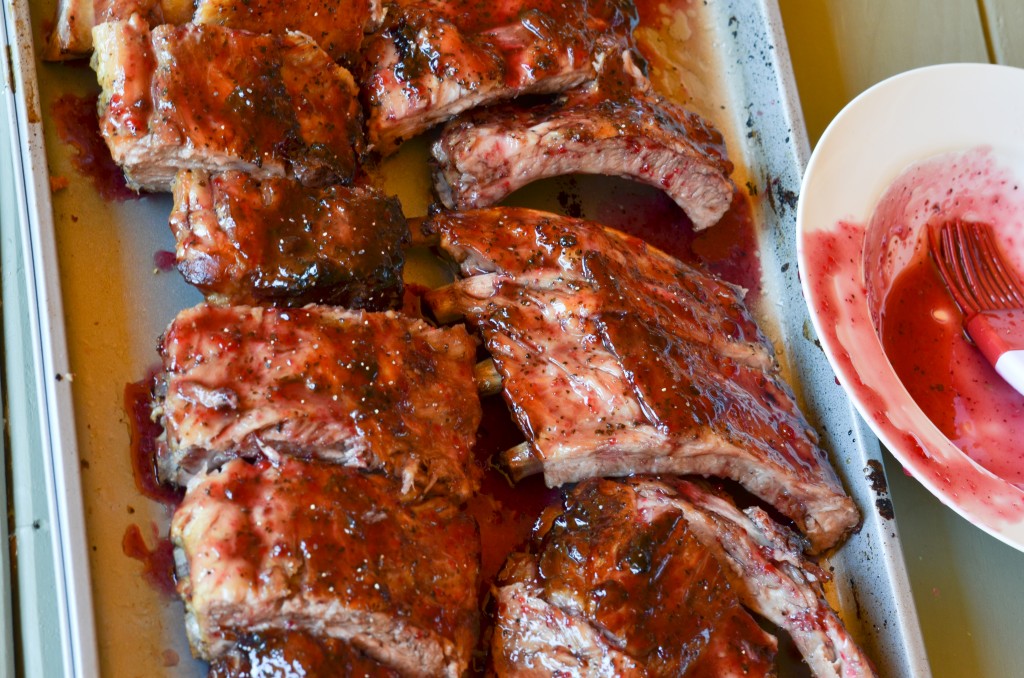 If you are still with me, here we go. Add one cup of chicken broth to the dripping in your sheet pan. Place it over medium heat and scrap up all the little brown bits. Carefully transfer this hot liquid to a sauce pan and add 1/2 cup of white balsamic vinegar. Crank up the heat. Reduce to about 3/4 cup. Add 1/4 cup huckleberry jam and reduce just a little bit more, keeping a close eye on it, until it has the consistency of syrup and coats the back of a spoon. If you reduce it too far, you can always add a little bit of chicken broth to thin it out.
Cut your ribs into whatever portion size makes you happy. Mop this sweet and tangy sauce all over the ribs. Try to save a little of the glaze so you can drizzle it over the final product.
If you got a jump start on the day (good for you!) go ahead and put your ribs in the fridge until it is close to eating time. Otherwise, turn on either your barbecue or broiler. You basically just want to heat your ribs through and caramelize the outside.
Garnish with fresh thyme and any leftover warm white balsamic huckleberry glaze.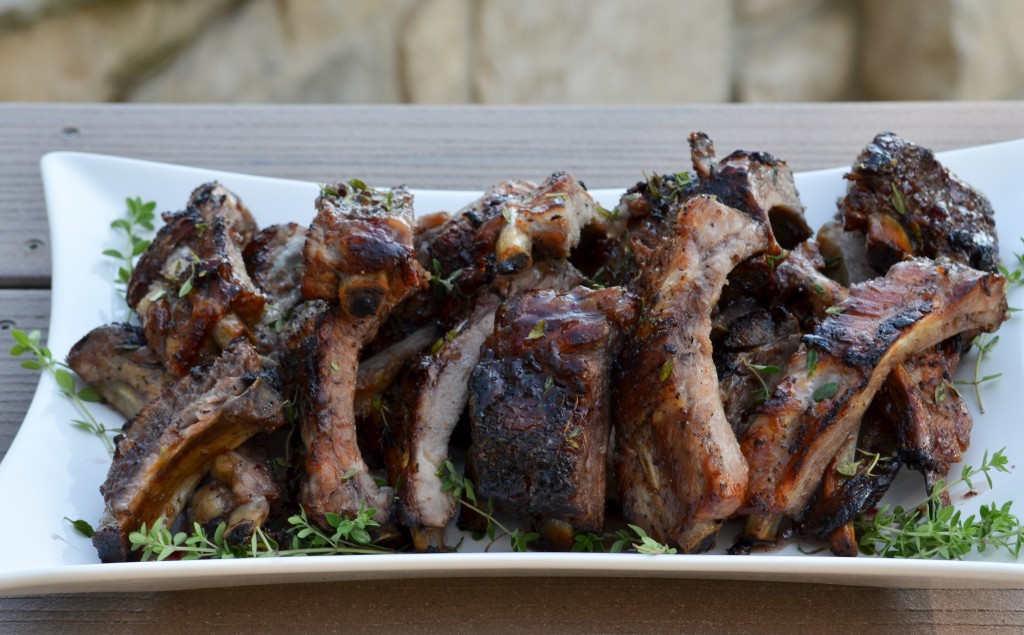 Have a great Labor Day weekend and don't work too hard, unless of course, it's on your ribs!