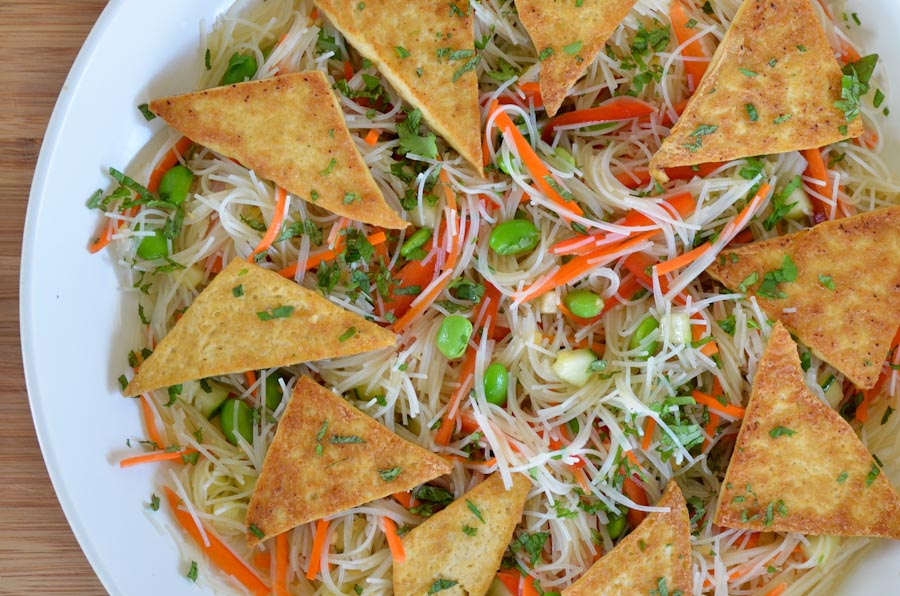 Here's what's going on. I'm making an oldie but a goodie. A tofu rice noodle salad with a sesame soy vinaigrette. A sort of deconstructed summer roll if you will. And total honesty, I'm listening to  Psy – Gangnam Style  I can't help it, it's so gosh darn catchy! And the video, amazing!
Anyone want to join me? Let's do this!
Yesterday when I was at Costco I passed by the electronic section and what song did I hear blasting? Yep, you guessed it, Gangnam Style. Apparently I am not the only one who finds this song awesome because there in the speaker section was a guy (older, skinny, long hair) dancing.
He had some surprisingly decent moves, you could tell he practiced often. At first I thought maybe he was doing a demo. Showing people how much fun they could have if they bought this speaker system. Then I thought, finally I am going to witness a flash mob! YES!  Nope, he was just a guy dancing. Having his own party at Costco with free snacks and free tunes.
He looked so comfortable and natural that hardly anyone even noticed this Costco free spirit. I guarantee that if I started dancing in the speaker isle, people would stare, raise eyebrows, it would be awkward, and embarrassing, OMG is that Tiare's mom?
Good for you Costco free spirit! It's a great song and it's hard not to dance. Way to let go of your inhibitions and not be suppressed by social norms. The world would be a better place if random people could have a random dance party in the speaker isle.  Even though you are possibly crazy town, you are invited to my potluck party. Hope you like my salad, I know you'll like my music!
This tofu rice noodle salad used to be my potluck go-to.  I kinda forgot all about it until the other day when I wanted to eat something fresh and vegetarian. Something like a summer roll without the tedious task of actually rolling summer rolls. (Uggg)
This salad gets better with time which makes it the perfect potluck side. You can make it in the morning or even the day before your party. The rice noodles and tofu will absorb the soy sesame vinaigrette and your salad will be bursting with flavor. Plus, it's always nice to show some aloha to your vegetarian friends.
Happy international day of peace and happy weekend… Gangnam Style!
Deconstructed Summer Roll Salad
1 block of firm tofu, drained
1 package Maifun rice sticks
1 C shelled edamame, defrosted
1 C cucumber, peeled, seeded and diced
3/4 C carrot, cut into matchsticks
1/2 C red bell pepper, cut into matchsticks
2 T fresh cilantro, chopped
2 T fresh mint, chopped
For the Dressing 
1 T fresh ginger, minced
1 clove garlic, minced
1/2 t sesame oil
3 T seasoned rice wine vinegar
2 T soy sauce
1 T honey
1/4 C olive oil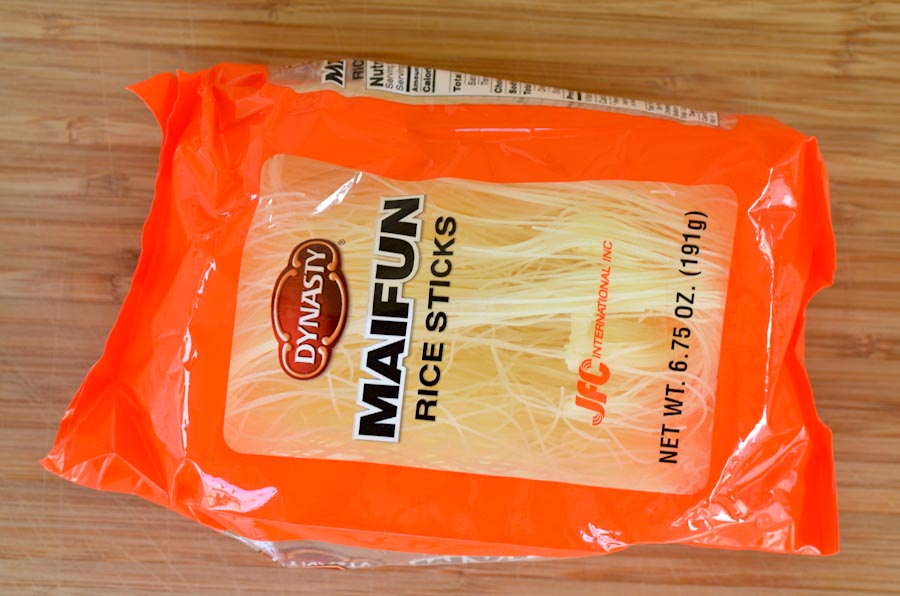 First, bring a big pot of salted water to a boil. Add your rice sticks and turn off the heat. Let them soak in hot water for about 10 minutes then drain. You can find Maifun rice sticks in the Asian section of pretty much any store in Hawaii. If you are on the mainland you might have to go to an Asian market.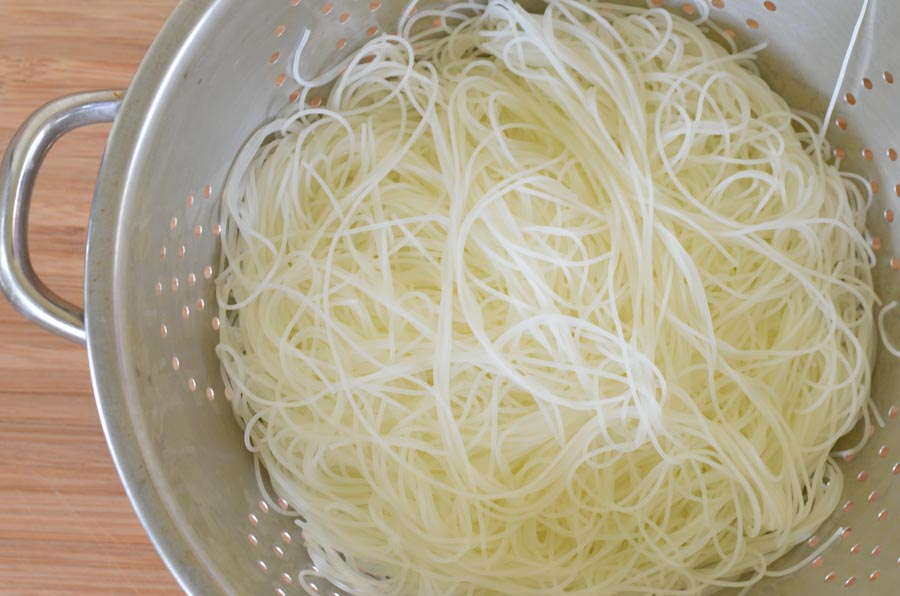 Next, get a large salad bowl and add your defrosted soy beans, cucumber, carrots and red bell pepper.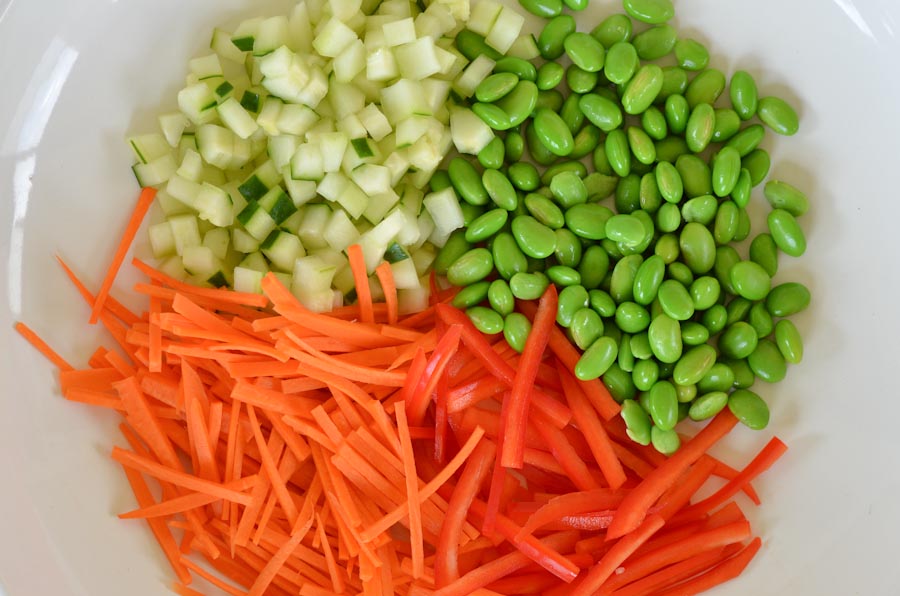 Moving onto the tofu. Drain your block of tofu and pat it dry with a clean towel. You can cut it into whatever shape and size you like. If you are feeding a lot of people you might want to cut it into smalls squares to make it go farther. I have little kids and we have fun with shapes so I go with triangles. Season with salt. I don't know if you know this about me yet, but I'm a Kosher salt kind of girl.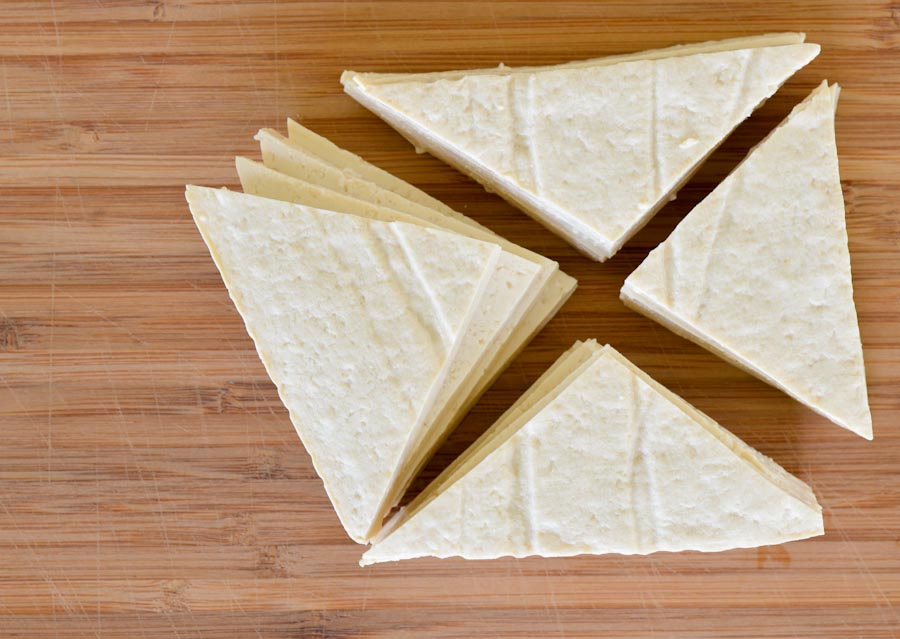 Pan fry in a large saute pan until golden brown on both sides. Here's a tip when working with tofu to keep it from sticking everywhere. I first get my sauté pan hot, them I lightly spray with Pam, then I add about 2 T olive oil, then the tofu. Pan fry over medium heat, and be patient, tofu takes a while.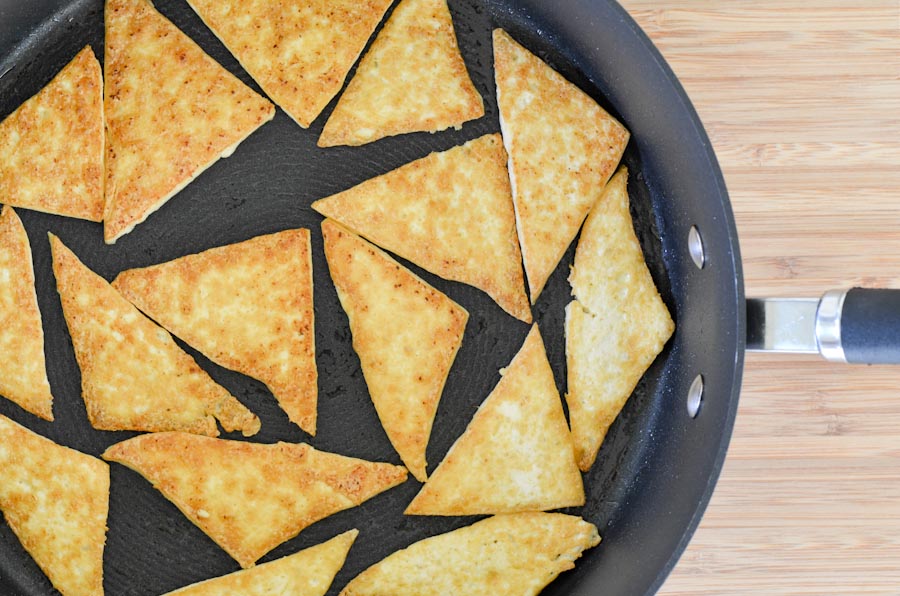 While your tofu is cooking, start the dressing. Add all the dressing ingredients into a mason jar, put the top on, and shake it up. Make sure you taste it to see if it is right for you. Eat what you like, like what you eat. If you like it spicy add some chili paste!
Next, chop up your rice noodles and add them to the bowl. Pour the dressing over the salad and toss. Top with your pan fried tofu, mint and cilantro.