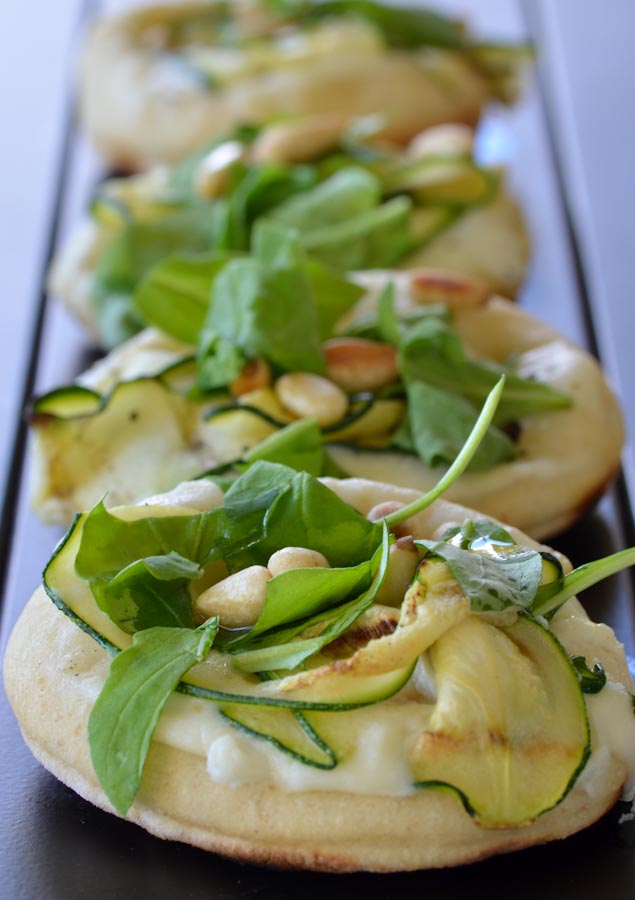 Turns out you don't need a good reason to make fancy pizzettas! I thought you did, so sadly I have been depriving myself and my cravings for about a month now.
It's not just the food. It's the cute dress, the ballet flats, the special wine, the nice platter: what am I saving this stuff for?
Let's redefine what a "good reason" is, shall we?
Here's what I came up with. Life is short, it's summer, I love to barbecue, I love Napa inspired cuisine of all sorts. You should always listen to your body and my instincts are telling me that eating miniature pizzas with big flavor in a cute dress with a delicious glass of wine is the right thing to do!
If that's not good reason, I don't know what is.
Make these and let me know what your "good reason" is!
This recipe makes about 26 Pizzettas
Ingredients
For the White Sauce:
3 T Butter
3 T Flour
3 Cups Whole Milk
1 t Salt
1/8 t garlic powder
1/8 t white pepper
grate of whole nutmeg
1 cup shredded hard cheese like Parmesan or Pecorino
For the Pizza Dough:
1 1/3 C warm water
1 T Honey
2 1/4 t active dry yeast
3 T olive oil
3 cups AP Flour
1/4 cup Whole Wheat Flour
1 1/2 t salt
For the Toppings:
2 Zucchinis
2 Cups Baby Arugula
1/4 C Toasted Pine nuts
Directions:
I like to start with the white sauce. You can do this the day before if you like.  The sauce thickens when it chills which makes it easier to work with as a pizza topping.  If you want to make extra sauce for some adult mac n cheese, I fully understand. Keep the same proportions of 1 T Butter: 1 T Flour: 1 Cup Milk.
Like all great things, it begins with a roux. Melt your butter over medium low heat and wisk in your flour. Alternate between a wisk and a wooden spoon stirring often until you have a smooth, blonde colored roux, about 5 minutes.  Add 1 cup of milk and wisk together until bubbly, add the remaining 2 cups of milk and bring to a gentle boil. The milk will thicken as it comes to a boil. Be sure to watch the bottom of the pan by giving an occasional stir with the wooden spoon. You don't want burnt roux on the bottom of your sauce pan.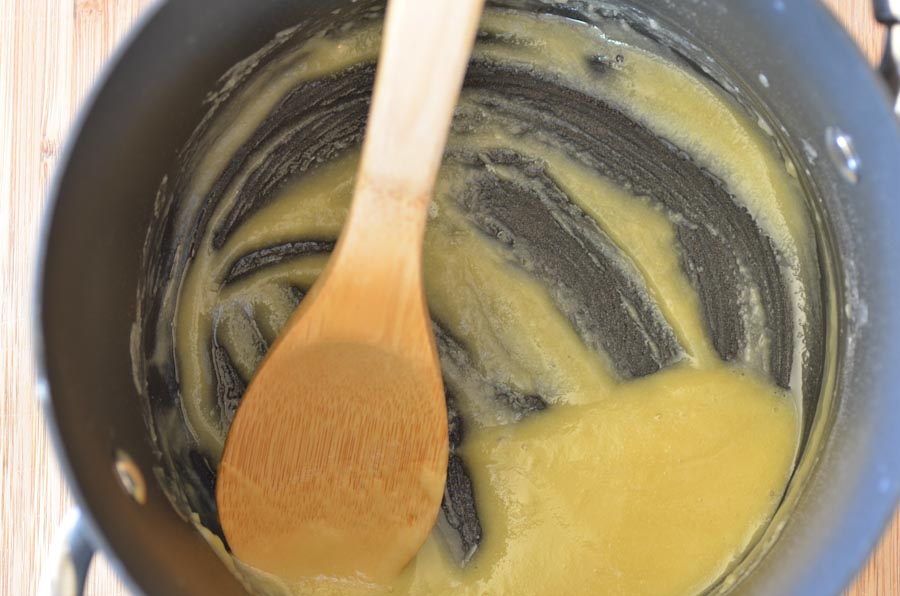 Once your sauce coats the back of a spoon you can add your seasonings, then gently stir in the cheese. You will know it's finished when the cheese has melted in and you can't stop tasting it. Transfer into a bowl and put in the fridge until ready to use.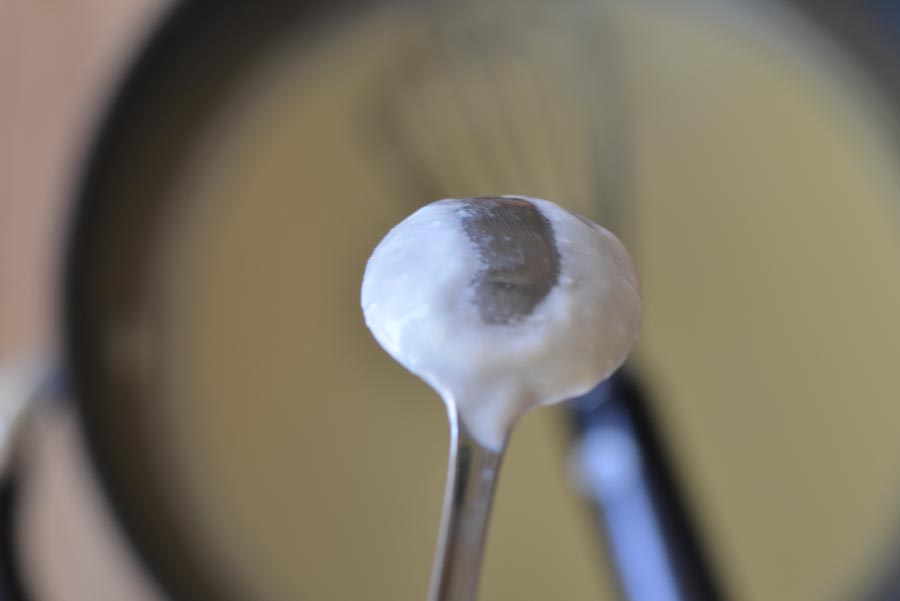 Moving onto pizza dough. I love making pizza dough! It's good fun in my opinion, but I understand that everyone has different ideas of "fun". So if you are reading this and thinking there is no chance you will actually be making pizza dough from scratch, that is okay. Go buy some delicious Naan and proceed to step 3. No questions asked.
If you are still with me, let's do this! Get out your mixer. Add the warm water to the bowl of your mixer, and by warm I mean 105-110 degrees. Like hot jacuzzi water. Add the yeast and honey. Then let it sit for about 10 minutes. It should be foamy.
Fit your mixer with the dough hook and stir in the olive oil. The add your flour and salt and turn the mixer on low. When the dough pulls away from the sides and everything looks incorporated you can dump it out onto a generously floured surface.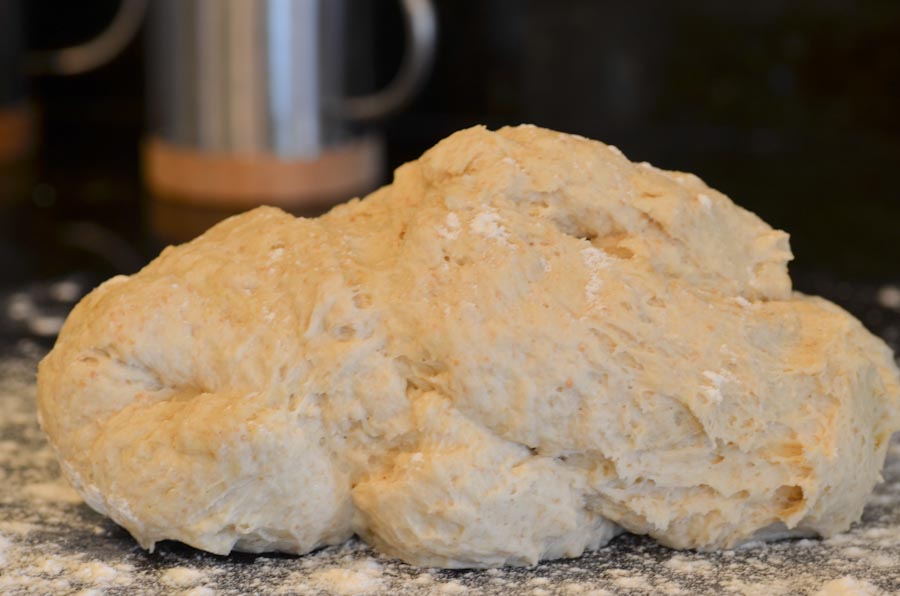 Knead the dough until you have a smooth, elastic ball. Then using a floured knife, cut the dough in half and form those pieces into 2 balls.
Brush 2 large bowls with olive oil. Add a ball of dough to each bowl and turn to coat in the oil. Cover with saran wrap and let rise for about 1 1/2 hours.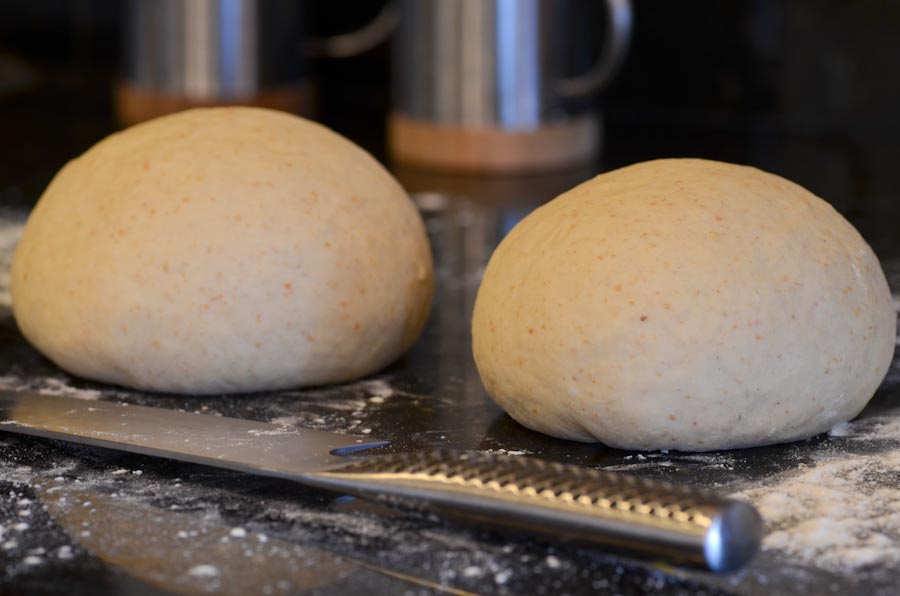 Now for the fun part! Roll out 1 ball of dough at a time on a floured surface. Always make sure to pick up the dough and add a little flour underneath between each roll to avoid sticking to the counter.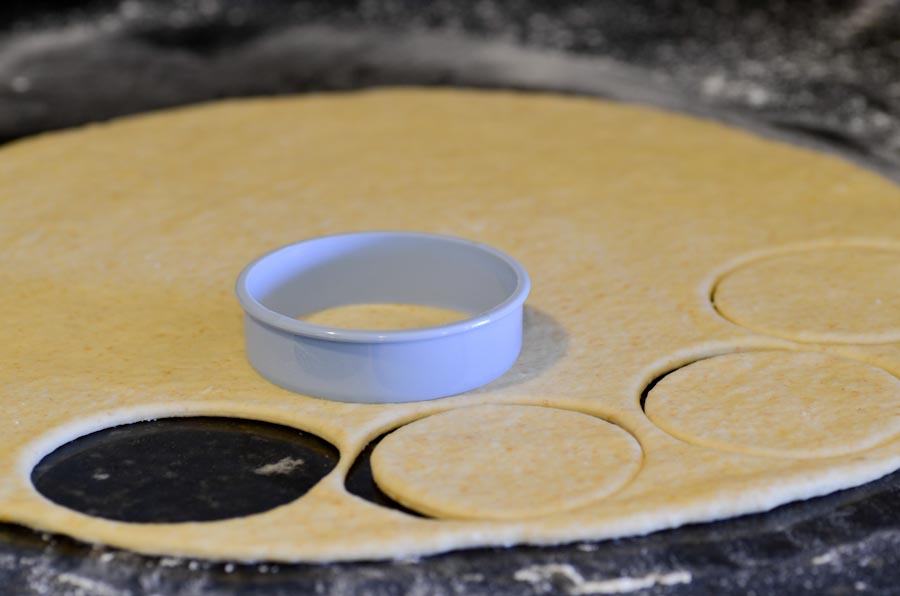 I use a 3 inch circle to cut out my mini pizzas. You should get 12-14 per dough ball. If you get less you might need to roll out the dough a bit thinner and vise a versa.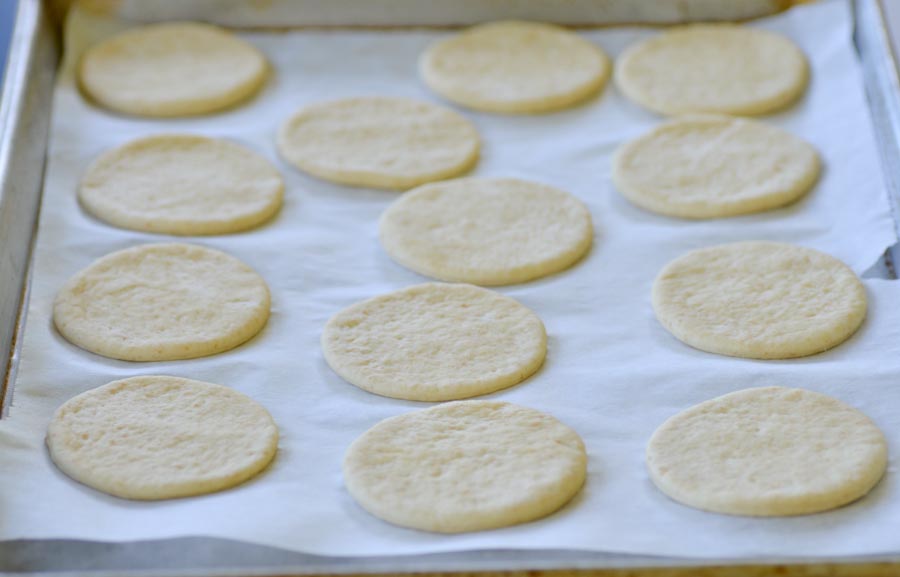 If you want to you can layer the mini pizza doughs on a sheet pan between parchment or wax paper, then wrap up and freeze. Now you have pizzetta dough just waiting for a no good reason.
Mommy Tip: Let your kids in on the fun. Give them the extra dough, a rolling pin and a few cookie cutters. I was amazed by how long this held their attention!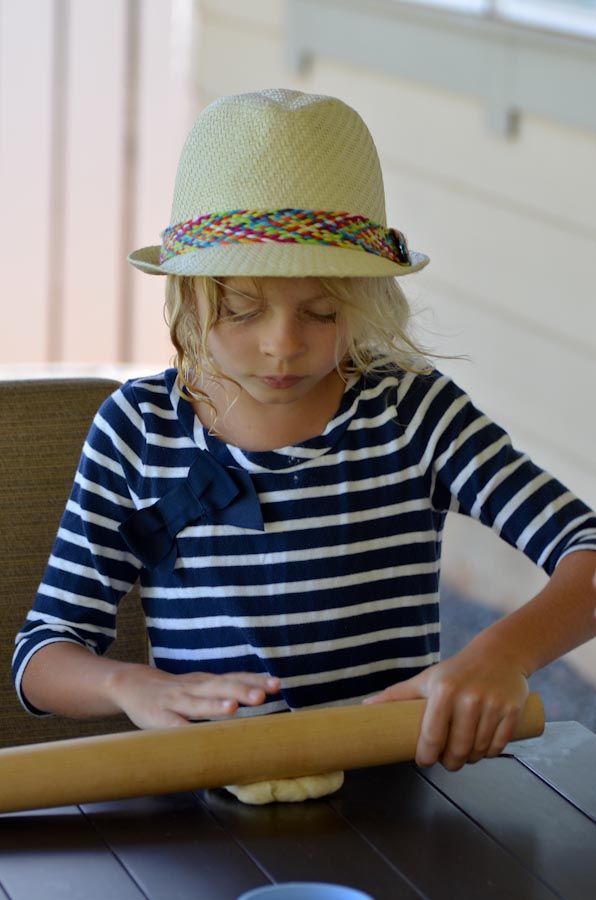 So the dough and the sauce are all ready. Let's get the toppings together. Preheat the gill. Using a mandolin, thinly slice your zucchini longways to make ribbons.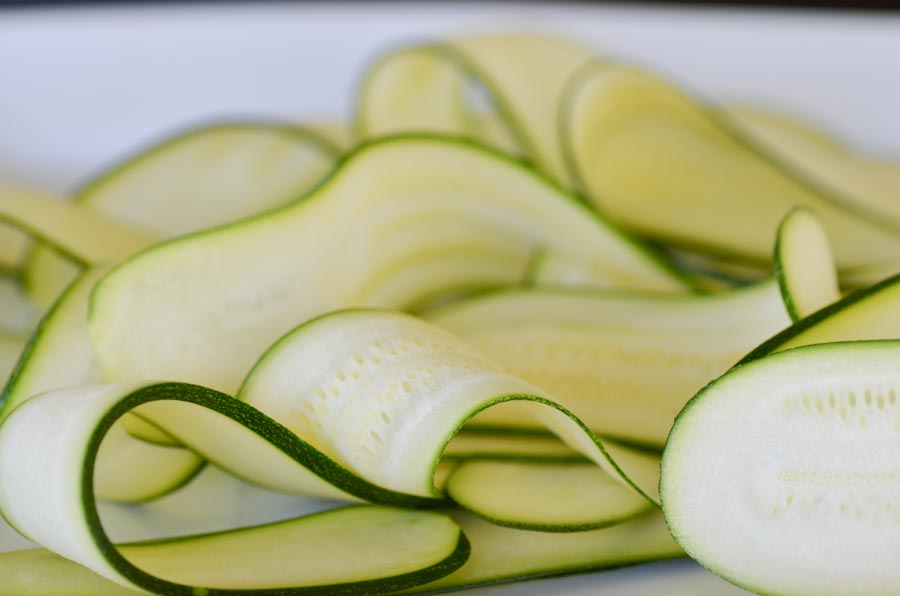 When the gill is hot add the zucchini ribbons and watch them carefully. As soon as you can see the grill marks forming, take them off the grill.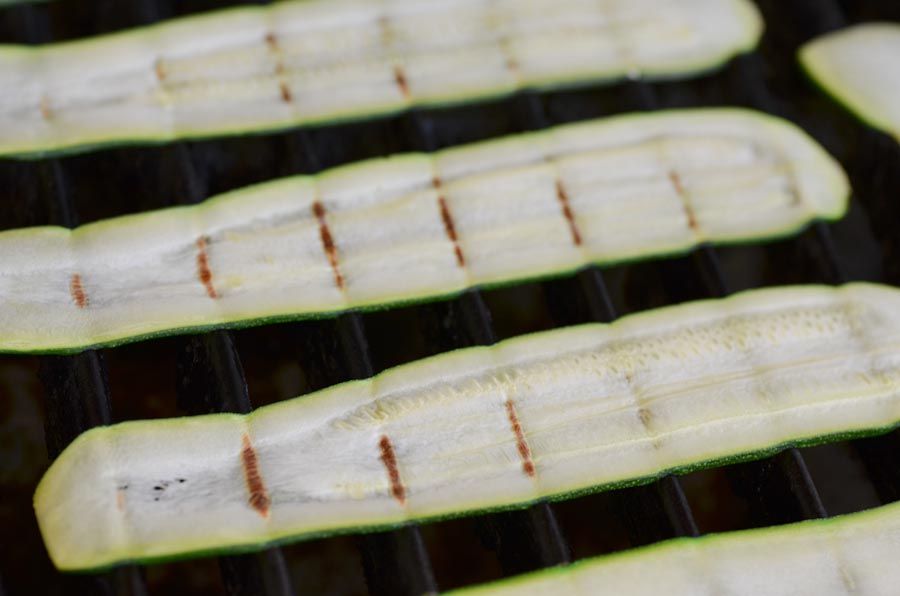 Turn the heat down to medium. To assemble the pizzettas, add a spoonful of white sauce to the dough and 2 zucchini ribbons.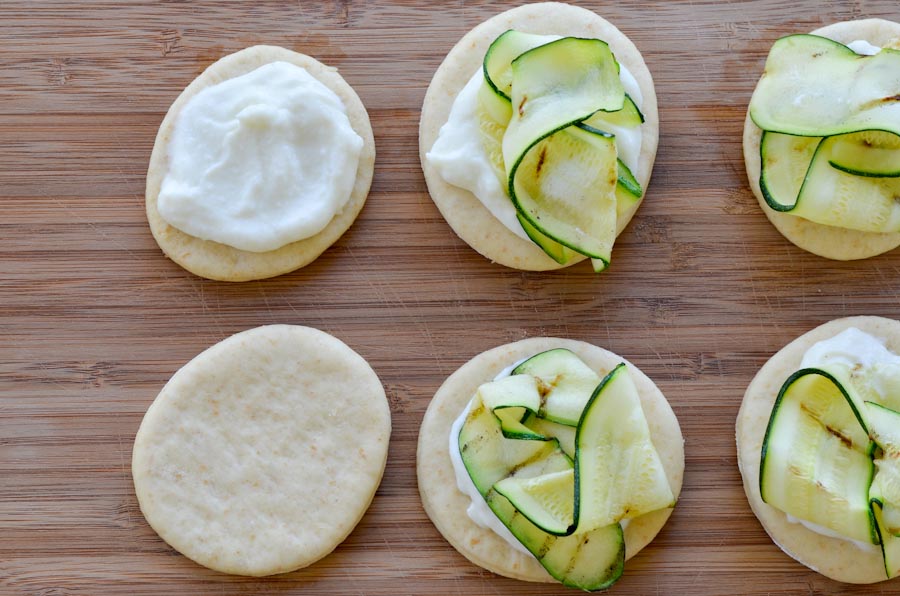 Grill over medium heat until the dough looks cooked. It really depends on the heat of the BBQ so use your judgement and if you have to taste one to see if it's done, that is allowed.
To finish, add chopped arugula, toasted pine nuts, olive oil and cracked pepper.
Love,